Jembatan Royal Gorge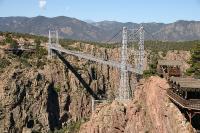 | | |
| --- | --- |
| Panjang | 380,00 m |
| Lebar | 5,50 m |
| Bentang Terpanjang | 270,00 m |
| Kondisi Umum | Aktif |
| Jenis Jembatan | Gantung |
| Tanggal Mulai | 05 Juni 1929 |
| Tanggal Selesai | November 1929 |
| Tanggal Peresmian | 1929 |
| Biaya | Rp. 3.997.700.000,00 |
| Negara | United States of America |
| Latitude (GPS) | 38.4616700000000000 |
| Longitude (GPS) | -95.7128910000000100 |
Jembatan Royal Gorge
The
Royal Gorge Bridge
is a
tourist attraction
near
Cañon City
,
Colorado
, within
Royal Gorge Bridge & Park
, a 360-acre (150 ha) theme park. The bridge deck crosses the
Royal Gorge
955 feet (291 m) above the
Arkansas River
,
[

2

]
and held the record of
highest bridge in the world
from 1929 until 2001, when it was surpassed by the
Liuguanghe Bridge
in China. It is a
suspension bridge
with a main span of 938 feet (286 m). The bridge is 1,260 feet (384 m) long and 18 feet (5.5 m) wide, with a wooden walkway with 1292 planks. The bridge is suspended from towers that are 150 feet (46 m) high. It remains among the
ten highest bridges in the world
and is the highest in the United States.
The bridge was constructed in six months, between June 5, 1929, and late November 1929, at a cost of $350,000. To pay for construction, it was built as a toll bridge. It was listed in the
National Register of Historic Places
in 1983. The bridge was not constructed for transportation purposes; instead, it was built with the intent that it serve as a tourist attraction, and has continued to be one of the most-visited tourist attractions in Colorado since its construction. The road is designated as Fremont County Road 3A. The
Royal Gorge Route Railroad
runs under the bridge along the base of
Royal Gorge
.
Sumber :
http://en.wikipedia.org/wiki/Royal_Gorge_Bridge
---
---